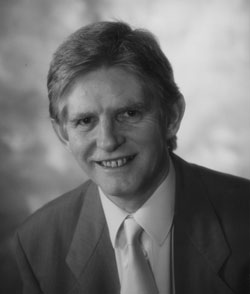 Andrew Hart Lockie was born in Glasgow and brought up in the lowlands of Scotland in the UK. An only child, he decided to become a doctor when he was about 8 years old. Accordingly, after his education at Fettes School in Edinburgh (where ex-Prime Minister Tony Blair was a fellow pupil), he went on to Aberdeen University to study medicine.
His medical training was sound yet it left him feeling that the mechanical approach of orthodox medicine made it harder, not easier, for doctors to see their patients as whole human beings and to retain the compassion they had started with. He saw there was a wealth of information about each patient quite apart from their main complaint such as their moods, the foods they liked or disliked etc. and felt this was significant but was frustrated by not knowing how to use it.
Leaving Scotland for London, he visited the Royal London Homeopathic Hospital there one day and found the part of medicine that he was missing; a place where the whole picture or constitution of a person can be fitted together to make sense rather than being mostly discarded as irrelevant information. He undertook the year-long postgraduate course there and obtained his membership of the Faculty of Homeopathy.

Dr Lockie then joined a general medical practice that used homeopathy in Oxfordshire, but soon realised he wanted more experience and qualifications in orthodox medicine before he specialised in homeopathy. To achieve this, he returned to hospitals and worked first in Accident and Emergency, then Children's health, then Obstetrics and Gynaecology (gaining his UK Dip. Obst. and Family Planning Certificate), then finally spent a year as a trainee general practitioner, qualifying for Membership of the Royal College of General Practitioners. It was also during this period, in 1976, that he married Barbara, a 21 year-old acupuncturist.
In 1978, he returned to London to open his own homeopathic practice, initially supplementing his income by working for the out-of-hours emergency medical services and by holding clinics at other homeopathic practices. His reputation grew quickly and he, in turn, became delighted by the effectiveness of this subtle and safe system of medicine.
By the early 1980's, he had moved himself and his rapidly-growing young family to Guildford in Surrey and was able to consolidate his clinics into one busy full-time homeopathic practice, soon taking on a partner.
He soon also became very interested in diet and undertook a course in nutrition. He then found that simple dietary changes would often help a person's immune system to regain its vigour. In particular, he found that sugar could unbalance a person's metabolism in far more complex ways than were generally acknowledged and would often use a blood-sugar levelling diet.
Always aware of the value of orthodox medicine, he kept well abreast of its developments through journals, post-graduate lectures and later on, the internet and did not hesitate to prescribe conventional tests or treatments when necessary.
However, like most homeopaths, he developed an understanding of how to work with the healing power of the body that allowed him to treat an increasing number of acute conditions with homeopathy. He found that patients emerged stronger when their own immune system was provoked into a sufficient response with homeopathy, often emerging from a recurrent cycle of illness, rather than being weakened by the illness and with an immune system that had leant nothing from being overridden with drugs.
He also saw how homeopathy, if used to treat health problems at an early stage, could prevent an escalation of ill health – sometimes rapid, usually very gradual – that could eventually cost both the patient and the health services dearly.
Visionary in his understanding of the role that homeopathy could play in a world where the pharmaceutical companies had an increasing stranglehold on medical research and practice, he contributed enormously towards helping homeopathy make the transition into the 21st century: he was a founder member of the HPTG, a homeopathic training course for practising doctors and veterinary surgeons in the UK. He became Press Officer for the Faculty of Homeopathy for many years, he lectured nationally, spoke regularly on both local and national radio and appeared on both British and American TV. He was later (in 2003) greatly honoured to be admitted to the Fellowship of the Faculty of Homeopathy, in recognition of his contribution.
His ultimate goal was that everyone should be able to treat themselves and their families with homeopathy knowing when it was safe to do so, and eventually he channelled this desire into his first book, 'The Family Guide to Homeopathy' published by the Penguin Group, which is now out of print but which forms the body of this website. Always a man of prodigious energy, he then went on to write a number of other books including:
'The Women's Guide to Homeopathy', published by Penguin books and co-authored by Dr Nicola Geddes (now out of print).
'The Complete Guide to Homeopathy' published by Dorling Kindersley, also co-authored by Dr Nicola Geddes
'The Encyclopaedia of Homeopathy' also published by Dorling Kindersley, revised and updated by Dr David Owen and Dr Patricia Ridsdale in 2006.
As the years passed and patients he had first treated as babies began to bring their own children to him, his sense of achievement with his work deepened. In return he was beloved by his patients, who found with him a warm, engaging personality who dispensed wise, balanced advice, often with an uplifting shot of wit and humour. For very many, he was an invaluable support when they faced terrible times and countless people tell of how he changed their lives. An exceptionally able, compassionate and intuitive doctor, Dr Lockie never became hardened to another person's pain and never lost the thrill of getting them better.
However, aware – like all doctors – of the transient nature of human existence, he also invested heavily in learning to appreciate the deepest part within us all; the part that is life itself. When he passed away at the end of April, 2004 at the age of only 57, he had found complete peace, fulfilment and contentment in life.